About Us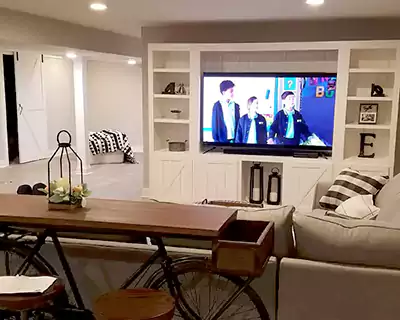 With a history of over four decades, Finished Basements Plus Inc. has evolved from a humble beginning into a well-established name in the building industry, proudly serving Delaware County, Ohio. Our journey, marked by expertise and dedication, has allowed us to accumulate a wealth of knowledge and experience that sets us apart as a trusted building partner.
Our founder, with 14 years of experience as an interior trim expert, laid the foundation for our journey into the construction world. Over the years, our dedication to craftsmanship and quality led us to expand our horizons. We spent 12 years mastering the art of custom home building, honing our skills in creating dream homes for our valued clients.
Why Choose Us?
In a natural progression, we channeled our expertise into basements, dedicating 17 years to perfecting the art of transforming underutilized spaces into beautifully finished extensions of your home. This specialization has made us the go-to experts for all your basement needs.
Our commitment to excellence extends to every aspect of our work, from obtaining permits to securing licenses, bonds, and insurance. We ensure our clients' safety, project compliance, and peace of mind. With a comprehensive approach that includes workman's compensation, we leave no stone unturned in safeguarding your interests and investments.
Professional Services
At Finished Basements Plus Inc., our offerings encompass a wide range of services tailored to meet your needs. Whether you're looking for a beautifully finished basement, a Western-style basement, or expertly crafted cabinets, bathtubs, and showers, we have you covered.
With over 40 years of hands-on experience in Delaware County, Ohio, we bring a depth of knowledge and a commitment to quality that ensures every project is executed with precision and care. Finished Basements Plus Inc. is your trusted choice for all your construction and renovation needs, and we look forward to transforming your ideas into reality.
Give us a call 614-306-4981